Permanent Hair Removal Cream - Do they really work?
These days, permanent hair removal creams that can be used safely started hitting the market.


They are not only easy to use but also painless. When applied they Penetrate the skin and break down hair structure without pain or irritation.

The advertisements usually says the hair removal is permanent .In reality it is not so. Here, permanent means permanent for a period of time.
Variety of creams is available for both coarse and fine hair. It is always better to consult a doctor if one's skin is sensitive before we use such creams.
Permanent Hair Removal Creams: Tips and Tricks
Here are some tips for better usage of permanent hair removal cream. It is necessary to do patch test first. Gently apply the cream over a small portion and find out how your skin reacts to it.
In some cases you will have to wait for twenty-four hours to see if there is any reaction. If everything is fine then we can apply the permanent hair removal cream wherever it is necessary.

Cream can be applied after moisturizing the skin. Or, take a warm bath. This will make the hair soften and open the pores. Also, this makes the cream work effectively.
Always read the instruction given carefully. It is important to see that the area where we apply the permanent hair removal cream ought to be free from cuts, abrasions etc. Apply the cream generously for better results.
Leave the cream on only for the prescribed time. Too much exposure can be harmful. Avoid using strong product on your skin atleast for some time after the treatment.

Vaniqa: Prescription Permanent Hair Removal Cream
Vaniqa is one of the best hair removal creams available in the market. It contains the chemical eflomithine hydrochloride, which is also used in treating tumors.
It retards hair growth by breaking down cellular activity. To purchase Vaniqa we require a prescription because it contains anti tumor chemical. Better consulting a doctor before using the cream.

Men cannot use vaniqa, as there is no scientific proof that it is works on men. Also pregnant woman and females below the age group of 12.
Also it should not be used on any other part other than face and chin or if you have broken skin or pimples and boils should not use it.
Finally, all permanent hair removal creams contains chemicals. Hence, it is important to see that FDA properly certifies the cream we use.

______________________________________________________
Subscribe for FREE
Note : Your privacy is respected & protected.
______________________________________________________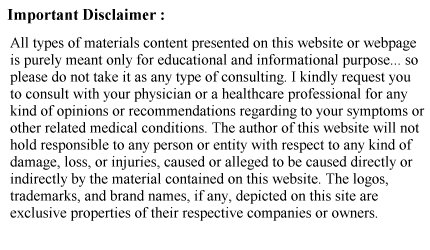 Copyright - © 2005 - 2019 - www.Surgery-Guide.com - All Rights Reserved.
| Privacy Policy | Disclosure | Contact Us |