Know how to Choose a Non Surgical Liposuction
Though liposuction is considered as a simple procedure for fat removal, it is still categorised as a surgery because of the invasive nature of treatment. In any liposuction procedure the doctor, with the help of small steel cannula inserted into the incisions made under the skin, removes fat through vacuum.


Prior to this, a mild solution of anesthesia will be administered in the area where fat is to be removed, and the fat will be removed in a steady and continuos fashion using vacuum. Generally the liposuction procedure will be easy and painless and the relative recovery period is also less.
Can there be better Alternatives to Liposuction?
In the world of cosmetic surgeries, there are still people who doesn't like to get punctured and undergo surgical procedures for getting rid of their fat and the search for alternative non-invasive procedures is gaining momentum.
The gaining popularity for non-invasive and alternate procedures can be attributed to the absence of risky factors such as infection, scars, blood clots and recovery time. But, the big question is whether or not we have an effective alternative for fat removal.
Of course, there are many such non-invasive alternative procedures collectively called as non-surgical liposuction methods present today in the markets.
The most effective and highly recommended method is regular exercise and as per the opinion there cannot be a better alternative to regular and rigorous exercise for fat reduction. But, the number of people who differ in opinion or doesn't like to exercise are more and hence the search for alternative methods continues.
One can find a number of cosmetic preparations such as gels and creams that are capable or rather claim to be capable of dissolving fat from the body effectively. These formulations also claim to be non surgical liposuction procedures for fat removal.
Though non surgical liposuction preparations of gels and creams prove to be good, many doctors refuse to endorse the findings due to the reason that these formulations does not carry FDA approval.
Further, due to the absence of FDA approval, you cannot buy them as alternative medicine for non surgical liposuction and you also cannot rely on the efficacy of such preparations when used for a long time.
Again one such non-invasive alternative is the popular phosphatidyl choline injection that makes rounds in the cosmetic surgery world with some proven results. Despite its success in fat reduction, FDA is yet to approve its usage for certain undisclosed reasons.
Continuing Efforts to devise Novel and Effective methods
In today's world of rapid advancement in science and research, medical researchers are coming out with new inventions every day and what we have to do is to sit and watch the developments.
One such new procedure is ultrasound sculpturing that aids in fat reduction without any invasive surgery at all. Researchers are investing very great efforts in devising and finding out non-invasive procedures for treating many of ailments suffered by people today.
And probably in the next few years you may be having few very effective herbal medicines or preparations that are capable of curing many critical ailments and diseases. Till such time the rule of the game will be wait, watch, and careful in what we use.

______________________________________________________
Subscribe for FREE
Note : Your privacy is respected & protected.
______________________________________________________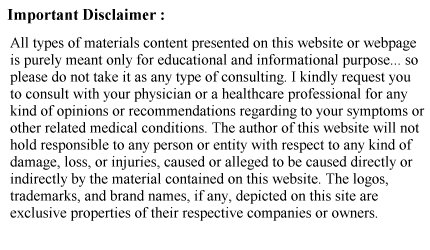 Copyright - © 2005 - 2018 - www.Surgery-Guide.com - All Rights Reserved.
| Privacy Policy | Disclosure | Contact Us |